Operation Hope Tote
Operation Hope Tote is an annual campaign that gives our community an opportunity to help the homeless men, women and children in the Springfield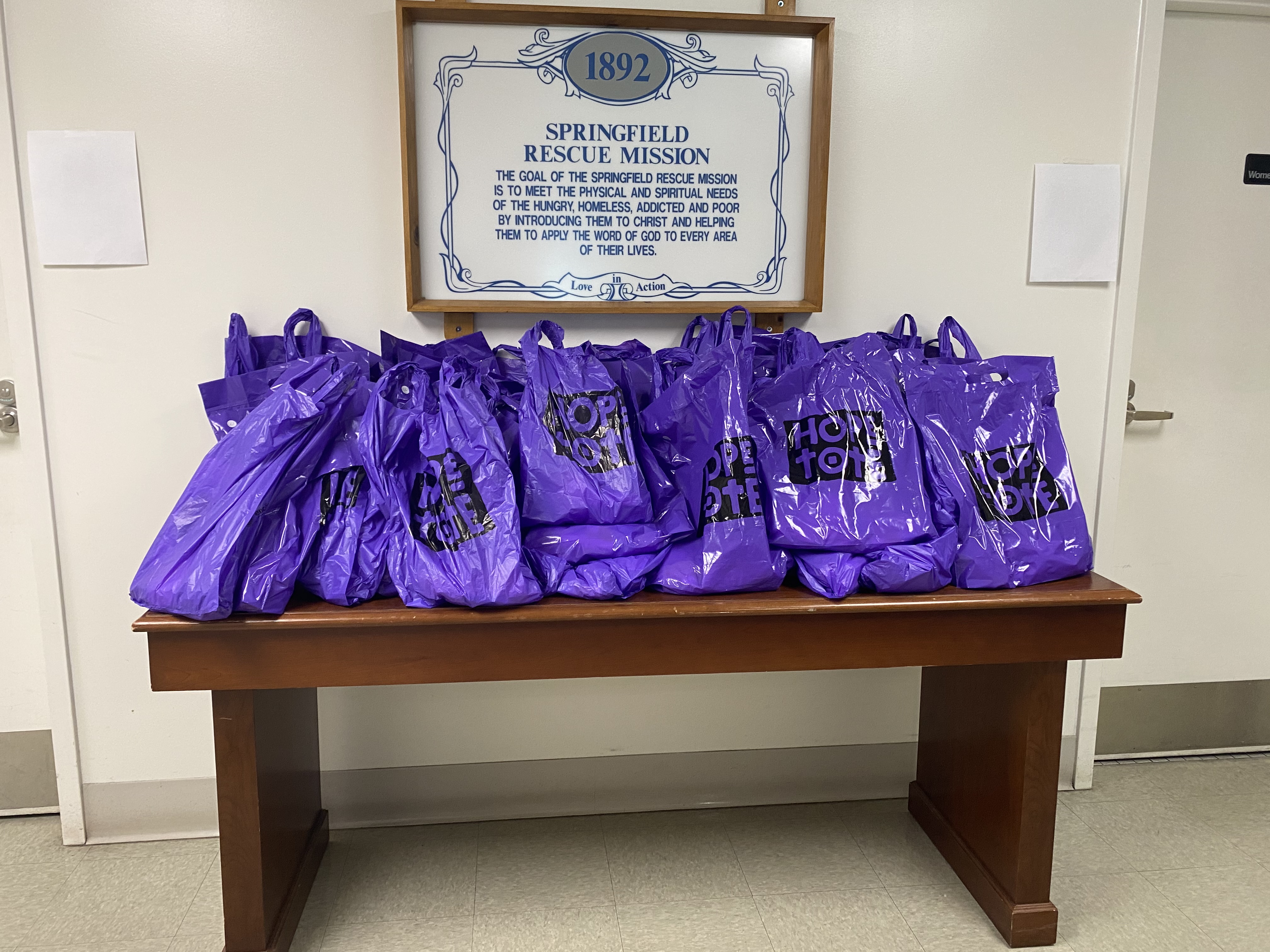 area. This is a great opportunity for individuals or schools, churches and work places to get involved! Fill bags with NEW toiletry and/or hygiene items.
This campaign runs from March 1 to March 31. Please return your filled bags by April 10. You can drop off your filled bags at the Springfield Rescue Mission at 10 Mill Street, Springfield. Bags will be accepted Monday through Saturday, 8am to 6pm.
Hope Tote Bags will be available for our collection efforts.  You can pick up yours at our 10 Mill Street facility.  Please call 413-732-0808 for availability and arrange pick up.  Thank you for your support!
To help those in need…
Fill up a bag, or multiple bags with NEW toiletry and/or hygiene items.
Hope Tote bags (as pictured) are available at our front desk upon request.
Some needed toiletry and hygiene items you can fill Hope Tote bags with are toothbrushes, toothpaste, shampoo, conditioner, soap, brushes/combs, tissues and socks.

For a more complete list of needed   items, please visit our Resources  Section below.

Once your bags are filled, drop them off at 10 Mill Street, Springfield.
Live too far away to fill and deliver a Hope Tote? You can still help!
RESOURCES:
To purchase hygiene items online and ship directly to the Springfield Rescue Mission, please visit the SHOP TO GIVE tab on our website.
For a complete list and printable, full-page flyer, please see our OPERATION HOPE TOTE LIST/FLYER
For a list of Frequently Asked Questions, please CLICK HERE
Thank you for your consideration and support. It is with your support we are able to bless and serve our local homeless individuals and those in need.
For questions or for more information, please contact:
Robin Gobeille, Development and Events Coordinator
413-732-0808, Ext. 237
rgobeille@springfieldrescuemission.org