Announcing the new Executive Director, Kevin Ramsdell
The Springfield Rescue Mission is pleased to introduce its new Executive Director, Kevin D. Ramsdell, Sr.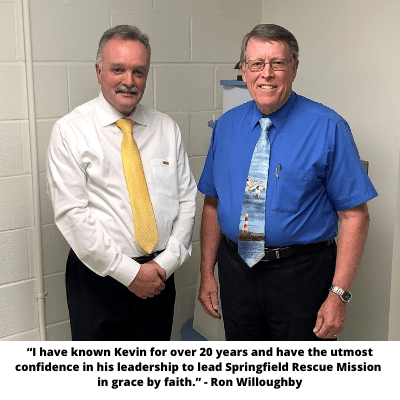 Kevin, a native of Southbridge, MA, currently lives in Enfield CT. with his wife, Sabra. They have 4 adult children, Shane, Kevin Jr., Kimberly and William and 3 grandchildren, Devon, Mia, and Rowen. Kevin's father is the late Kenneth E. Ramsdell from Southbridge and his mother is Mary K. (Dumont) Ramsdell from Oxford. Kevin is one of six siblings. He has two older sisters: Cheryl (Desorcy) Ramsdell, and Linda (Lomme) Ramsdell; and three younger brothers: Alan, Jeffrey, and Stephen.
Kevin served in the United States Navy from April-1977 to June-1985 entering in the delayed entry program while still in high school. He received two Honorable discharges, two Armed Forces Expeditionary Medals for services rendered in Lebanon and the invasion of Grenada among other awards and ribbons citations and letters of accommodations.
Employed by Ford Motor Company for 35 years, Kevin worked at various levels in the local dealerships and direct selling of programs from Ford Motor Company to Commercial, Fleet, and Government accounts across Massachusetts, Connecticut, and Rhode Island. He has served on the Board of the Worcester Chamber of Commerce as an Ambassador, and also on many local Business Networking Committees.
Kevin has been a part of the local church and involved in many areas of ministry from Youth Pastor, Deacon, and Chairmen of the Deacons and served locally in the Intentional Interim Pastors Ministry (IPM) revitalizing churches. He was involved with Word of Life Clubs and served as Ambassador to Dwight Willard and Tim Hurd. Kevin is currently a member of First Baptist Church in East Longmeadow, MA. He and his wife, Sabra, have been involved with the Howard Street Prison Ministry in Springfield, Springfield Rescue Mission as volunteers, Grief Share Ministry, DivorceCare Ministry, Adult Bible Fellowship, Discipleship Ministry, Life Groups with the First Baptist Church, and many outreach programs such as the Festival of Giving Trees in East Longmeadow.
"I am envisioning a number of opportunities for the Springfield Rescue Mission to embark on new ways to serve God and the homeless, addicted and poor within our communities."
"Ask not what God can do for you, but what can you do for God!"
– Kevin Ramsdell