People here seem like they actually care – and act like they care!" – Andrew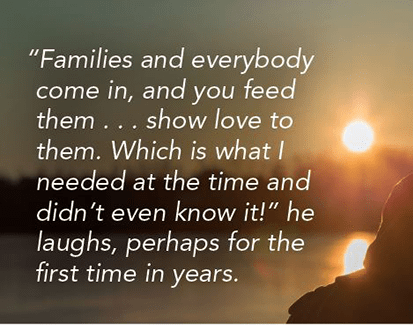 When you hit bottom like Andrew, you have no home, no hope, and you have no one . . .
That sense of total isolation is almost as terrible as the constant hunger and hurt of alcoholism, and Andrew knows it well.
"I was drinking myself to death," he admits, and it drove him to a despair so deep, "I didn't believe in anything, anyone. I was ready to die.
"My life was falling apart—I was falling apart!" he says with a shudder, and recalls thinking, "I'm just going to go in a corner and die."
Still, Andrew knew there had to be rescue somewhere, from someone—maybe even a caring neighbor like you.
"One morning, I just woke up, and I was like, 'I have to DO something,'" he says. And God took it from there . . .
"I don't know what made me go to a church one day," he says, shaking his head in amazement. "A guy there spoke to me . . . asked if I'd ever heard of the Rescue Mission. And I was ready to go!"
So Andrew came for a meal . . ."and spent a year here!" he smiles—in our landmark Men's New Life Rehabilitation Program. And today, Andrew rejoices with us in Christ.
"People here, they seem like they actually care—and act like they care," he nods gratefully.
"Families and everybody come in, and you feed them . . . show love to them. Which is what I needed at the time and didn't even know it!" he laughs, perhaps for the first time in years.
"I couldn't do this on my own," Andrew says. "But here, you said, 'Ask God for help.' That's what I did, and He's helped me!"
Yet hundreds more in harm's way are headed our direction this summer, which is why your loving support means so much.
And thanks to the exciting Matching Challenge, any gift you send by our May 31 deadline will DOUBLE instantly, making TWICE the difference for neighbors in need like Andrew. Thank you!